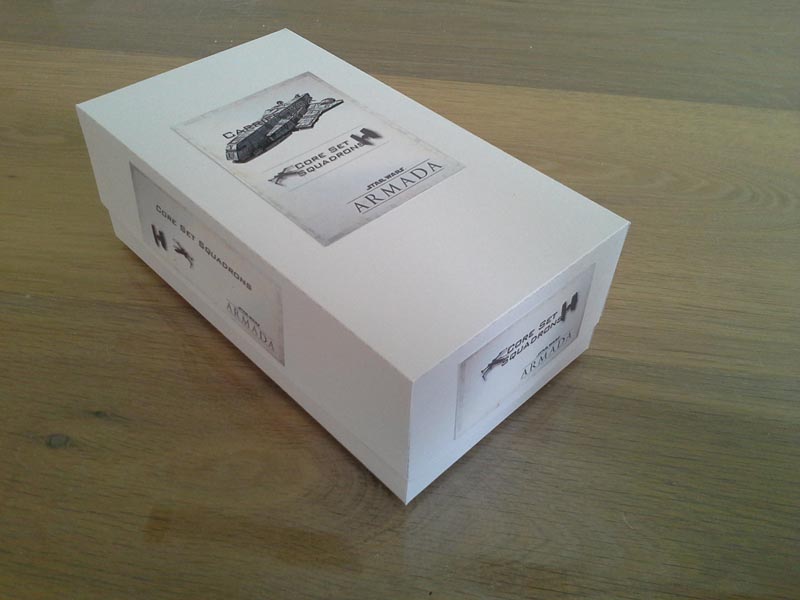 Carrier Boxes
Overview
What is a CarrierBox?
The CarrierBoxes (I wanted to draw an analogy with a airspacecraft carrier) are very simple boxes in different sizes with a detachable lid and serve as storage boxes for squad hangars and other things. The whole thing consists of three elements, which I describe below: the blank basic boxes in different sizes, print sheets with some artwork and inscription and templates to make your own inscriptions. I chose to go this way because the assembly possibilities of the boxes are so diverse, I can't do every single artwork alternative on my own.
Sizes
The box sizes
The CarrierBox comes in plain white (or green, if you printed on such paper…) and four sizes. The smallest box holds 4 squadron hangars, the next size 6, the second biggest 8 and the biggest box holds 10 squadron boxes (therefore the denomination 4-, 6-, 8- and 10-box). Furthermore all boxes are measured in a way that you can put some other things inside (see below). Each box gets additional spacers and wall reinforcements (especially useful for the bigger ones) that can be printed and glued. Below you'll find a few pictures to illustrate all this.
| | |
| --- | --- |
| Size | Content |
| 4 | 4 squadron hangars, e.g. 4 X-Wing squads from core game. |
| 6 | 6 squadron hangars, e.g. 6 TIE Fighter squads from core game. |
| 8 | 8 squadron hangars, e.g. 8 wave 1 hangars. |
| 10 | 10 squadron hangars, e.g. all squad hangars from core game. |
Here you can see a spacer. Thanks to it the hangars stay in place and can be easily removed (thanks to the gap).
Even if you can't see it in the picture, a smaller spacer has been glued to the bottom of this CarrierBox. It allows for safe storing of two rows of upgrade card boxes.
Even the boxes for the squadron cards fit inside if you turn them sideways. Of course you must not glue any space to the bottom. If the bottom of this box turns out to be too flimsy for your taste, simply glue another rectangle piece of cardstock inside.
If you dislike the amount of space the SquadHangars require and if you don't mind tossing multiple squads on their bases into a single box, here's the solution: I designed four simple columns to be glued into the corners of any given CarrierBox which convert the box into a single big messy hangar with a proper closing lid. I have to admit that I'm more impressed with the rather significant saving of space (see right picture) than I thought I would be in the first place. But I don't know if I'm still impressed should I decide to paint the ships. Nevertheless, choose whatever you like better!
Applications
How to use it
You can do a lot of things, for example build separate boxes for:
all base game squads (or wave 1, 2, … squads)
all rebel/imperial squads, further separated by type if necessary
squads you need for a tournament list
all upgrade card boxes
all squadron card boxes
…
You can even mix stuff by putting all squads of a given tournament list alongside some tuckboxes with all needed upgrade, squadron and ship cards into a big enough box, for example. The ship card boxes won't fit that nice, but they fit.
Stickers
Not everybody will like the plain white boxes (or his or her own own handwriting…) and because of that I did some print sheets with inscription "stickers" to glue onto each box. They are measured to fit each box, regardless of the size. Just print on paper, cardstock or self-adhesive paper and glue it onto the lid (the following pictures are somewhat outdated, I've changed a few things):
I'm sure everybody will have different requirements for those stickers, and because I'm unable to fulfill every single wish I opted for a do-it-yourself solution with two templates this time:
A Word template, one with plain white back and one with the Armada logo and the background of my own sheets (hope you mac users can use this, too?).
A Photoshop template with different layers for background, logos, silhouettes, artwork and inscriptions from my example sticker sheets. With a few basic photoshop skills it should be easy to make your very own and unique stickers (like adding a picture of your dog, your wife, …).
You will find all of this together with the fonts I used and the pdf files for the boxes within a single zip file.
I hope everybody is okay with the way I handled this one. As always, question and feedback are welcome!
Download