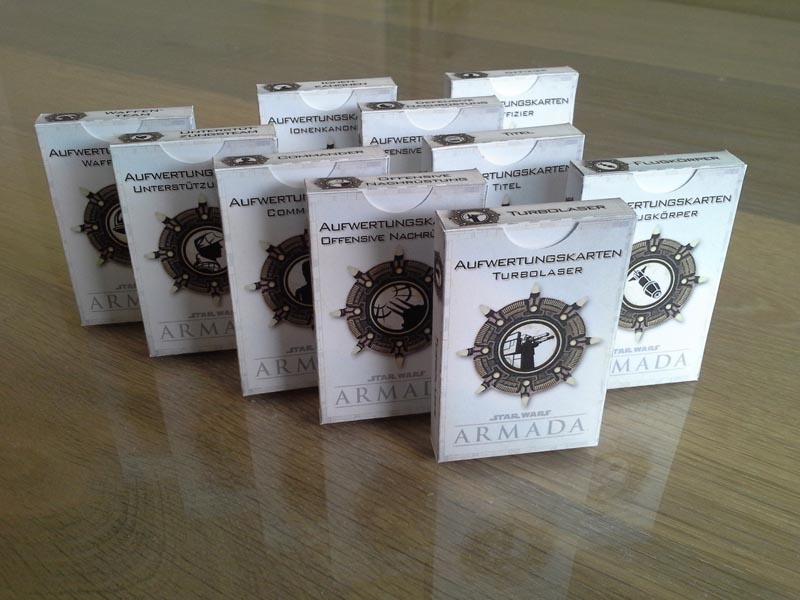 Tuckbox Collection
Damage Decks
Damage Cards
Version 1
A standard tuckbox for your damage deck. The file contains two sizes, one for sleeved cards (FFG sleeves) and one for unsleeved cards. The backside features a list of all damage cards, including type and quantity.
Version 2
Following an idea on a german X-wing forum I designed a tuckbox that is not only meant to hold your sleeved damage deck, but also acts as an in-game dispenser box that stops your cards from sliding from the pile. Just turn the upper flap the whole way around and put it on the table. Assembly is only slightly more complicated, just follow the steps below:
Print dispenser box only, ignore the other print .

Cut all solid lines and fold all dashed lines (including the not dashed line on the big flap where a subtle note tells you to do so).

Build the main box first.

Put damage deck inside.

Glue lower part of the flap to the bottom of the box.

Glue the upper lid of the big flap. Make sure to close the flap before glueing to get a nice fit.
Works great, feel free to ask questions, if you don't get along.
Upgrades
Upgrade Cards
These boxes come in different versions, choose whatever you like best!
Version 1 – Single tuckbox
For manageable collections. A single box for all upgrade cards, regardless of their category. The backside features a list of all available categories.
Version 2 – Separate tuckboxes
Separate boxes for each upgrade category. For now those will be quite empty, but I'm confident that this will change. The backside features a more or less appropriate Star Wars quote for each category.
Version 3 – CollectorBox
A non-tuckbox solution that can be found under CollectorBox Upgrades.
Ships & Squads
Ship Cards
With the future in mind I decided not to do a single box for all ship cards, therefore the file contains separate boxes for rebel and imperial ships. The design is more bulky and sedate than the squadron boxes' (straight cards, heavy logo), because I thought this would be appropriate for the content. The backside features all ship types up to wave 7.
Squadron Cards
Here the same holds as with the ship card boxes (no single box). The design is more dynamic, again because of the content (cards at an angle, ship silhouettes). The backside features ship types and unique pilots up to wave 7.
Other
Objective & Reference Cards
Since the amount of objective and reference cards is quite manageable (for now), I decided not to make separate boxes for those two types. Instead you'll find a combined box for both of them. Feel free to request separate boxes if need be.
The new objective and station cards from Correlian Conflict boost the amount of those cards quite a bit, but I still decided to go with one box for all of them, but I've added two new sizes. Hope this enough, let me know if not!
Download