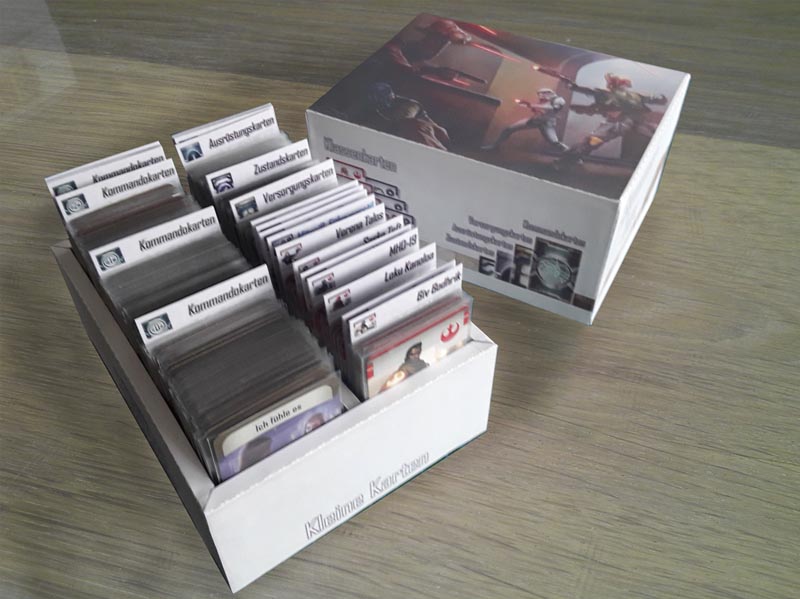 Collector Boxes
Small Cards
What's a CollectorBox?
Seriously? Not yet? Check out the "Generic Material" section to find out more about this amazingly sturdy box, including a detailed instruction slider for building it. In addition to the usual cardstock you'll need some 5mm foamboard. But it's worth it. Really.
This CollectorBox is meant to hold all small cards from Imperial Assault and its various expansions. The main concept is the same as with my other CollectorBoxes, check the above mentioned instruction slider if you're not already familiar with the build. The file also contains three sheets with dividers for all existing types of small cards, of course separate dividers for each class. You can either print them all or if you'd like to choose, download the divider PNG archive file. Inside you'll find all dividers as separate PNG files, allowing you to print your personal collection.
Be warned: If you sleeve all your cards with the rather thick FFG sleeves and own "one of everything" like me, one single box won't be able to hold all small cards released so far, you'll have to build two of them (but they fit nicely inside the core game box). Furthermore, the pictures show my prototype, the final version has some minor artwork changes, just in case you wonder.
Have fun with build and the box and feel free to bother me with questions or feedback, as always!
Large Cards

Download