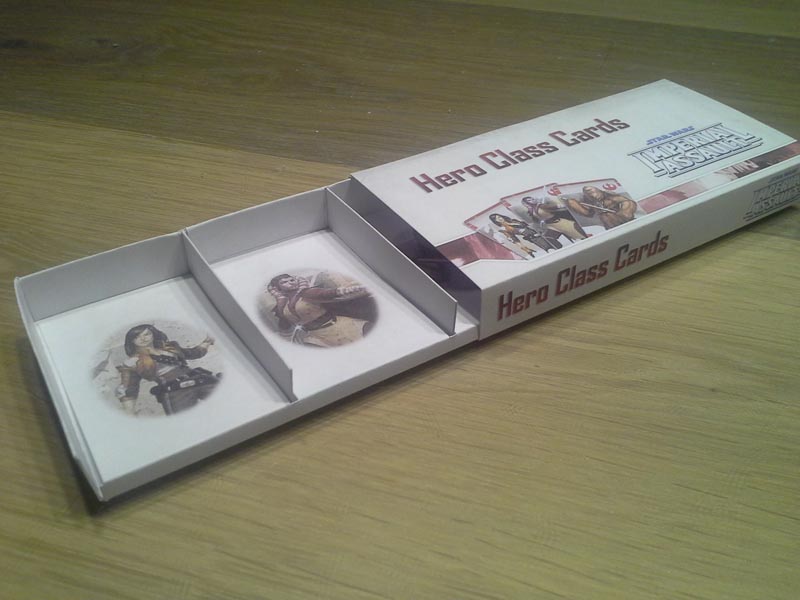 Special Cardboxes
Matchboxes
The matchboxes come with three slots for Item or Condition Cards and a sliding cover. Just open it and place it next to your play area. Assembly is a bit more complicated, but don't be afraid and refer to the instruction slider below. Please note that these boxes are meant as an alternative to the standard tuckbox, you won't need both!
Supply Dispenser
Following an idea on a german X-wing forum I designed an alternative tuckbox that is not only meant to hold your sleeved damage deck, but also acts as an in-game dispenser box that stops your cards from sliding from the pile. Just turn the upper flap the whole way around and put it on the table. Assembly is only slightly more complicated, just follow the steps below.
Print dispenser box.

Cut all solid lines and fold all dashed lines (including the not dashed line on the big flap where a subtle note tells you to do so).

Build the main box first.

Put damage deck inside.

Glue lower part of the flap to the bottom of the box.

Glue the upper lid of the big flap. Make sure to close the flap before glueing to get a nice fit.
The design of this box is identical with the Armada/X-Wing DamageDispenser. I merely reduced the thickness, even though the box is still quite roomy to make assembly easier and to allow the cards to be pulled out with ease. Works great, feel free to ask questions, if you don't get along.
Download