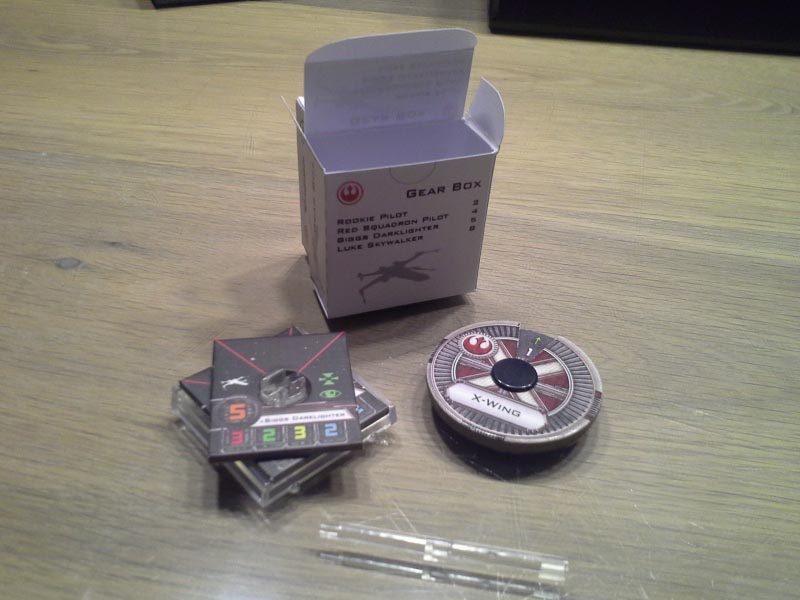 Gear Boxes
Overview
What is a GearBox?
Each ship in X-wing comes with a number of things you have to gather before play. To make this easier just build a GearBox for each ship, where you can store everything besides the miniature (which belongs in the MicroHangar). The GearBoxes are simple tuckboxes of (roughly) the same size and of course they are completely optional, it's no problem to use only the MicroHangars.
Each GearBox holds the corresponding ship's base and pegs, the ship tokens (namely the ones listed on the box) and the maneuver dial.
I had some reports about difficulties when packing the GearBoxes, it's really easy, only the sequence is important:
Place the peg (sticked together) diagonally into the box.
Push one ship token into the base, place the other one(s) on top of that.
Place the maneuver dial beneath(!) the base, this way the plastic knob fits into the free space on the underside.
Put everything together into the box with the dial next to the peg (which creates a little space for the other plastic knob of the dial).
Got it? If not, let me know!
The Ghost peg...
Unfortunately the peg for the Ghost from wave 8 is far too big to fit into the standard big ship GearBox. Luckily the Ghost's MicroHangar has enough room to hold it next to the ship itself, therefore I decided not to make a bigger version for the Ghost. Feel free to complain, doing an additional oversized GearBox is possible, even though it won't give a very tight fit and everything will be rattling around a bit. Not to mention that you might dislike the look of one oversized GearBox.
Download