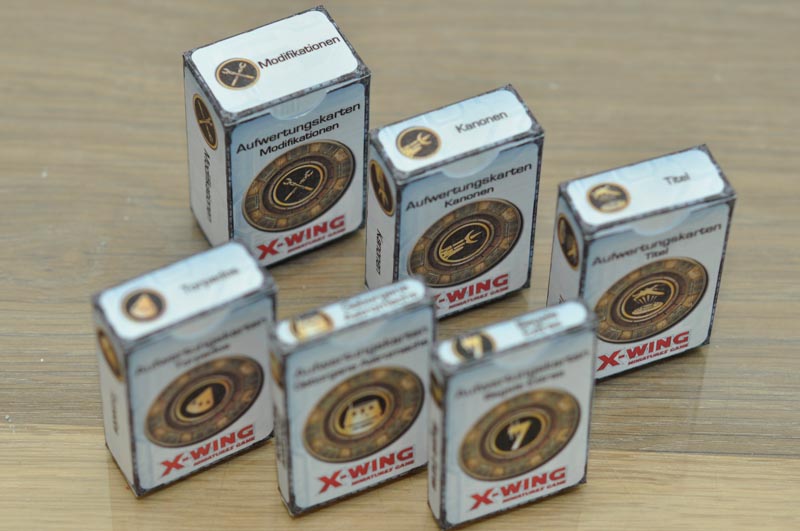 Tuckbox Collection
Damage Decks
Damage cards boxes
There are two different types of boxes for your damage cards.
Version 1
Standard tuckboxes for damage decks, two core game boxes (classic and TFA core set) and four boxes for epic damage decks (Rebel Transport, Tantive IV, Imperial Raider, Imperial Assault Carrier).
Version 2
Following an idea on a german X-wing forum I designed a tuckbox that is not only meant to hold your sleeved damage deck, but also acts as an in-game dispenser box that stops your cards from sliding from the pile. Just turn the upper flap the whole way around and put it on the table. It's only slightly more complicated to build, just follow these steps:
Print dispenser box only, ignore the other print .

Cut all solid lines and fold all dashed lines (including the not dashed line on the big flap where a subtle note tells you to do so).

Build the main box first.

Put damage deck inside.

Glue lower part of the flap to the bottom of the box.

Glue the upper lid of the big flap. Make sure to close the flap before glueing to get a nice fit.

Enjoy your new dispenser box:
Upgrades
Upgrade cards boxes
These boxes come in three different versions, choose whatever you like best!
Version 1 – Single tuckbox
For manageable collections. A single box for all upgrade cards, regardless of their category. No photo for this one because… Honestly, anybody around here with that few cards? Guess not.
Version 2 – Separate tuckboxes
Separate boxes for each upgrade category (and some boxes for subcategories), every box available in four different sizes to accommodate for different sized collections. I know that some sizes won't be used ever (at least not in the foreseeable future), but this way it was much easier to make the pdf files. Just ignore dumb sizes. The backside features a more or less appropriate Star Wars quote for each category.
Version 3 – CollectorBox
A non-tuckbox solution that can be found under CollectorBoxes.
Pilots
Pilot cards boxes
There are three different layouts for the pilot card boxes, the first two are available in four different sizes to accommodate for different sized collections (the size number refers to the thickness in cm, each cm holds about 16 sleeved cards):
Version 1 – Generic boxes
One box for each faction that holds all pilot cards. Especially useful for smaller collections or if you don't like opening multiple boxes for setup. The specs graphics on the backside is just that of the most iconic starship of each faction.
Version 2 – Single ship boxes
If you have a large collection you might want separate boxes for each ship, so here you go. The boxes for the large ships only come in size 1 and size 2 (let me know if you miss a specific size), the epic ships get a single box per faction. The backsides feature the specs graphics of each ship. Some of those graphics may look a bit awkward, this is because I had to do them myself (besides the graphics for the Hwk, which was done by DarkPadawan).
Version 3 – Tournament pilots boxes
A size 1 only box to carry all pilots for a given tournament list. No need to take all of your pilot card boxes with you or to bag up everything in lame plastic bags or something like this. Instead you can build this (hopefully) fancy looking box to show off. There are two different versions: One generic (for people who want to build only one box) and three faction specific boxes. I even tried to come up with some cool names, hope I succeeded.
Version 4 – CollectorBox
I'm working on this variant, it's not ready yet. Just in case you are in doubt about which version to choose, there will be an all-in-one CollectorBox with dividers in the future (no ETA yet).
Other
Reference cards & (Mini)ManeuverCards boxes
A size 1 box for all so far released reference cards (size 2 will follow when needed), as well as boxes for standard maneuver cards (like those) and boxes for my own MiniManeuverCards. Both the big and the small maneuver card boxes are available in multiple sizes. Please note that I don't host any files for the big maneuver cards, I simply didn't make them, you'll have to check BGG to get them or stuck with my MiniManeuverCards.
Download