Hi there,
sorry, no new stuff yet, I just wanted to say thank you!
My donation goal has been reached, a big thank you to all my backers! I'd love to show you some photos of my new pen tablet, but just a few days before the goal was reached my desktop monitor gave in. That was a real bummer, since I don't have enough money to spare at the moment, but then I realized that thanks to you I could actually afford a new one. Therefore I had to use a significant amount of the money to buy a new monitor, the rest was just enough to order the Imperial Raider, the last X-Wing epic ship I was missing. I don't play epic, but now I can give it a try to build an EpicHangar for this beauty.
I won't start collecting money for the pen tablet again (at least for now, bad karma…), but instead I decided to collect for a new desktop PC. My current one is rather old-fashioned, which I realized upon visiting the computer store looking for a new monitor and testing some state-of-the-art stuff. Gosh. My workflow would benefit even more from a new PC than from the pen tablet. Therefore I decided to add a new goal.
Concerning new boxes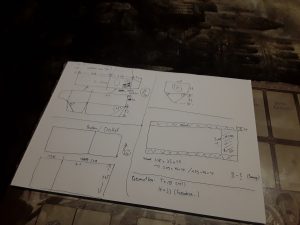 I'm still waiting for my X-Wing and Armada shipment, but thanks to a buddy I will get my hands on wave 10 X-Wing ships tomorrow morning at the local backery. Expect new X-Wing hangars soon. The first new CollectorBox is nearly done, and here's a preview of my first draft for the Tantive IV EpicHangar. Yes, it's a bit messy. Actually, it's the second one, the first one was done in my mind… Don't know if it works out, but I'm confident.
Thanks again, not only to my backers but to my all fans out there, you're really encouraging!
SirWilli